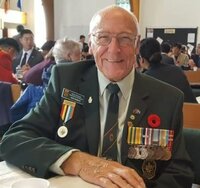 John Eric Shirley
Shirley, John E. (Jack) CD2
R C A S C
Korea Veteran, UNEF, UN Egypt, Israel, Lebanon and Syria
After a life of honour and service, John Eric Shirley (Jack) died peacefully in the company of loved ones on September 5, 2022 at the age of 91 years. Jack was the last surviving child of seven born to William Whitney Shirley and Gertrude Connors of Halifax, Nova Scotia.
He leaves his loving wife of 68 years, Mary (nee Tanovich); daughters Linda (Randy) Cross, and Deb Chase, and grandchildren and their partners Eric Cross and Melissa Rose and Devon Cross and Devan Bruce.
Jack was a Korean War Veteran, a devoted family man, a friend and colleague to many, a leader, a Maple Leafs fan, an avid golfer, a proud Canadian and Haligonian, a man of Faith, and a terrible guitar player. To his family, he was The World.
The family wishes to offer heartfelt thanks to the numerous kind, caring and compassionate people who made it possible for Jack to stay at home as long as he needed, and then to transition to the care that he needed, including Jackie Young, Leanne Balderson, Dr. Kondor, and the amazing health care team at Providence Care Hospital. Your attention to Jack's comfort are deeply appreciated.
Cremation, a private family service and inurnment will be undertaken in Cataraqui Cemetery.
In Aeternum