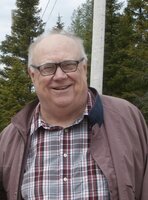 Bryan Alan Brown
Bryan 74, passed peacefully with family and friends to say goodbye on Wednesday, November 9, 2022 in Napanee. He will be lovingly remembered by his wife of 47 years, Elaine (nee Burns), his granddaughter Breanne Bevington (Keegan Pearce) and their two children who named him P-pa. Predeceased by daughter Renee Fawcett (Bob) of Bath and his sister Virginia Booker (late John) of Toronto. He is survived by his brother Ronald (Margo), nieces, nephews, sisters and brothers-in-law and those whose lives he touched.
Bryan had such a calm groundedness and confidence about him. Yet he was quick with a witty retort and his booming infectious laugh would fill rooms with joy and happiness. He was principled with solid character traits which served him and others well in life. He will also be remembered for his love of sailing & adventure, travelling, Formula 1, reading, fishing and his investment club. He applied his strong analytical and decision making skills in the large computer systems field for great companies like Xerox, Coca Cola and the Gov't of Ontario from which he retired 25 years ago. A very special thank you from the family goes out to the entire healthcare community at the L & A General Hospital, surely the best small hospital in Ontario.
An interment will be held on Saturday, November 26, 2022 at Cataraqui Cemetery at 1:00pm, please meet at the cemetery office at 12:45pm to go in procession. Friends and family are welcome to gather at 58 Richmond Park Drive, Napanee from 2pm to 5pm. As an expression of sympathy, memorial contributions in memory of Bryan may be made to UHKF (Cancer Center of SE Ontario).