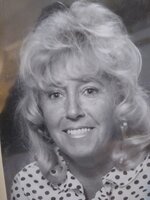 Elaine Lillian Earl
On December 23rd 2021 at 4:30 am Elaine Earl passed away peacefully in her home in Kingston Ontario, the town of her birth, after several weeks of palliative care at the remarkable age of 93. Elaine is survived by her daughter Janine Earl, grandchildren Sasha Suehiro, Marin and Gabrielle Gillesse, and Sister in-law Christina Gordon, and Nephew's Douglas and Stephen Gordon.
Elaine was a force of nature in this life! Her great strength of character and optimism surpassed humble beginnings with sheer tenacity, which led to notoriety and distinction in both personal and professional endeavors as a member of this community. In a time when women were seen and not heard, Elaine was a vocal, visible champion of human and women's rights! She was a business woman and later served as the first female liquor inspector for the government of Ontario.Elaine was an adventurous romantic, she sailed the 4 seas, owned an island and broke every known rule. She taught her family to love the beauty of this natural world, appreciate and support philosophy and the arts; including fine art and rococo decor. Elaine taught her family to respect others and demand the same, cook gorgeous food every day, and live in beautiful surroundings while prioritizing quality of life above all.Elaine Earl gave her family unshakable faith and freedom of thought, to be free autonomous entities with the right to live in liberty, as written in our Bill of Rights. She taught others to stand up for humanity and never surrender to tyranny, she was proud to be a Canadian until the final days of her life.
For those wishing to pay your respects, the burial of Elaine's ashes will be taking place at 12:00 noon on Thursday February 10th, 2022. We will be meeting at the main office of the Cataraqui Cemetery and driving together to the burial site. Due to flu restrictions, we will not be having a reception afterwards.