INFO@CATARAQUICEMETERY.CA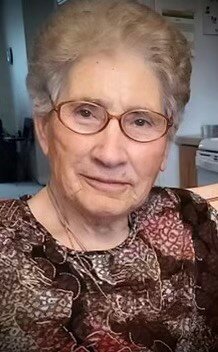 Share Your Memory of
Maria


Obituary of Maria Stabile Giaquinto
Maria Giaquinto, wife of the late Sabatino Giaquinto (2010), died peacefully at Kingston General Hospital on December 18, 2022. Always a Mother, Nonna, and Bisnonna, she was fully committed to her family. Maria never stopped making sure everyone was cared for, making regular phone calls just to check in, and always ready to welcome new members to the 'Sunday dinner' as the family grew. She was surrounded by her three devoted daughters through to the end, Angela De Luca (Ed), Gerardina D'Amore (Joe), and Josie Birchall (Dave). She strengthened in her final hours through the special bond and love she had for her grandchildren, as she exchanged memories during visits from each of them: Lisa (Trevor), Santo (Priscilla), Laura (Ted), Tiffany (Carl), Amanda (Derek), Samantha and Liam. She was also a loving great grandmother to Olivia (Mack), Ava, Alyssa, and Chiara who held a special place in her heart and were able to visit with her.
Her family and friends will always remember her hospitality, courage, and integrity. They will miss receiving her phone calls, company, and above all, her love. Maria will also be remembered by her surviving family in Italy.
The family will be having a private burial service on December 22nd as they reflect on a hope to see both Maria and Sabatino together again.