INFO@CATARAQUICEMETERY.CA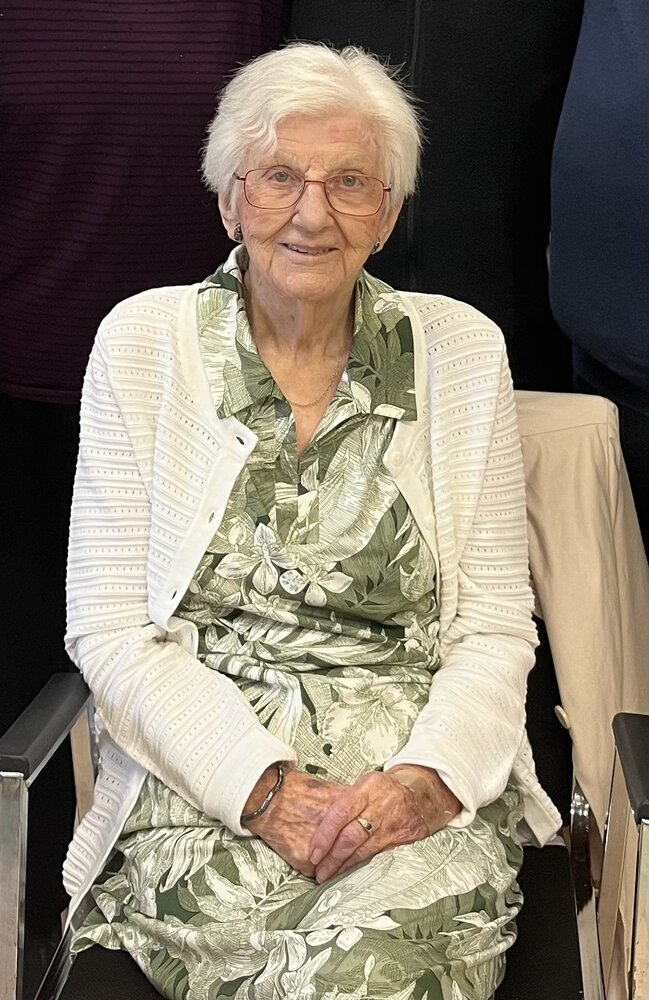 Obituary of Edna Mae Day
Edna Mae Day died peacefully at Kingston General on Monday, June 12, 2023 at the age of 95. Predeceased by her husband Allan and son Peter. Proud Mother, Gramma and GG. She is survived by her son Allan (Helen) Day, daughter Karen Day, son John (Rosemary) Day, son Mark (Patty) Day. Grandchildren Allan (Cheryl), Adam (Lori), Andrew (Sarah), Amanda (Sean), Elizabeth, Scott, Ross, Kathryn, Paul (Melissa), and Nicole (Brent). Great grandchildren Emma, Joey, Ryan, William, Marcus, Lucas, MacKenzie, Jacob and Reid and brother Lorne Weir, sister Masie (Howard) Hepburn. Predeceased by brothers; Don Weir, Harvey Weir and Jack Weir; sisters, Janet Barnes, Mildred McArthur and Hester Cunningham; brothers-in-law Jack McArthur, Roy Barnes, Tom Cunningham, Hugh Shaver, Jim Day, and Bill Forbes; sisters-in-law Joyce Weir, Clare Weir, Betty Weir, Bernice Shaver, Donna Day and Loraine Forbes; and her parents Archibald and Alice Weir (White). Aunt Edna is also fondly remembered by many nieces and nephews.
Born in Wiarton Ontario on May 18, 1928. Edna was the fifth child of a family of 10 children. Always having a sense of adventure she moved to Toronto in 1945 to join her older sister and to pursue a career as a hair dresser. She eventually met her future husband Allan and were married on March 31, 1951. Allan and Edna opened their restaurant "Allan Day's Chuckwagon" on the Danforth in Toronto in 1954. After 10 years of successful operation they decided to start a new chapter of their lives and moved to Kingston Ontario 1969 where Allan became a Teacher and Edna worked in the food industry. In 1981 Edna wanted to start a retail business and staying true to her heritage opened the "Farmer's Daughter Linen and Things" at 336 Princess Street, Kingston. During her retirement years Edna enjoyed travelling to Europe, Africa, Asia and Australia but most of all her passion was her family and being a Mom, Gramma and Great Gramma.
Edna was also heavily involved with First Baptist Church, Helen Tufts Nursery, her book club and at the age of 70 started Tai Chi until her 90s.
Edna will be laid to rest at Cataraqui Cemetery in Kingston. A celebration of life will be held at Kingston Seniors Centre, 56 Francis Street on June 24, 2023 at 12:00 noon.
The family would like thank the staff of Kidd 4 at Kingston General Hospital, Kingston Home Care and the SMILE program (Gerri) for their professionalism and compassion. In lieu of flowers, memorial donations may be made to your charity of choice.