INFO@CATARAQUICEMETERY.CA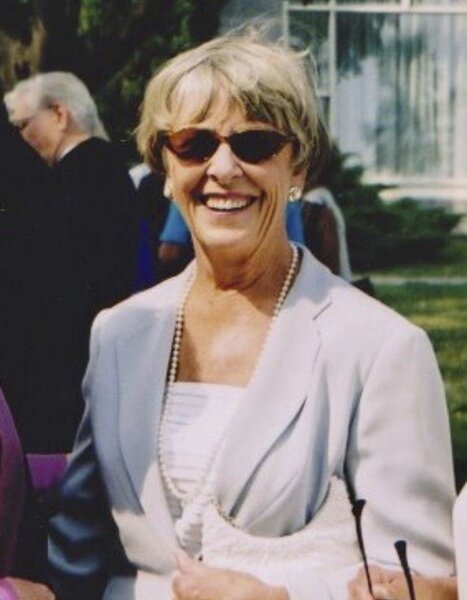 Share Your Memory of
Helene


Obituary of Helene Dorothea Pratt
She came, She saw, She conquered!

Helene lived a vibrant life with unbounded exuberance until a terminal cancer diagnosis one month ago put out her flame. She was a force of nature, a lover of outdoor sports especially skiing in the Alps with great friends, playing tennis at her cottage, golfing at Cataraqui, and always a fierce competitor down to the nightly solitaire games with her grandchildren at the cottage, and weekly bridge games. Lover of all things food, culture, the arts, travel, people and most of all she loved to laugh with friends and family.

Helene moved to Kingston from Peterborough, Ontario to get her nursing diploma and met William Pratt the father of her four children and the joy of her life until his passing in 1977. They built a wonderful life for their young children in Amherstview, before building their dream home on Fairway Hills overlooking the golf course. Helene and Willy were actively involved in the community and Helene carried on with her passions of volunteering with the Andy Fund, the Kingston Community Foundation, and the Symphony to name a few. She was an ardent supporter of all things Kingston including the Tragically Hip!

Helene married Dr. Andrew Koval in 1987 and he was the perfect partner for her dynamic and active social life. She loved every adventure of her 30 years with Andy until his sudden passing in 2016.

Helene was actively engaged with her children Holly, Andy (Kathy), Bill and James (Jeanne) who will miss her constant guidance, strength, and interest in everything they did. Helene created a loving and caring bond with her stepchildren Donald (Denise), Anne (Owen), and Susie Koval which they will miss.

The loves of her life were her grandchildren Courtney Gordon, David, Jonathan, Joshua, Elisabeth, Caleb Pratt, Harry and Charleigh Pratt, Sarah and Holly Koval, Jessie and Sam Corrigan and her great-grandson Neil Pratt. She wanted to see every video and every photo of anything and everything they were involved with.

At the core of her very full and fulfilling life were her friends whom she adored and cherished. They were a formidable group that loved and supported each other with so much joy and laughter.
Helene's family would like to extend grateful and loving appreciation to her caregivers who stepped up to bring humour, patience, and grace in her final days with us.

A Celebration of Life will be announced in the coming days.