INFO@CATARAQUICEMETERY.CA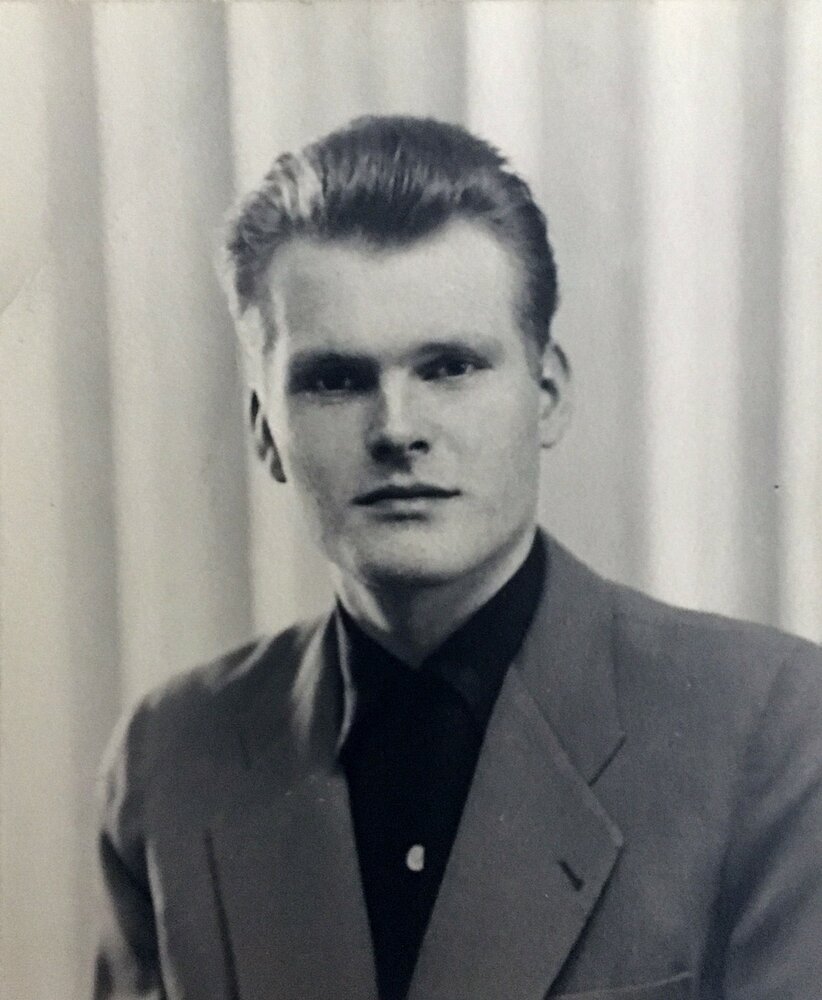 Obituary of Peter Klaus Dorn
Peter Klaus Dorn was 89 years old and lived in Kingston Ontario. Peter passed away peacefully overlooking his beloved land at his home surrounded by family on Saturday December 18, 2021.
Peter Dorn was a master Graphic Designer and Compositor who influenced and taught many. Upon his office wall hangs a picture, a poster he created sighting a famous quote by renowned Pulitzer Prize winning American author Carl Sandburg. "There is only one man in this world, and he is ALL MENThere is only one women in this world, and her name is ALL WOMENThere is only one child in this world and the child's name is ALL CHILDREN"These words would guide his very being as he achieved accomplishments after accolades for his passionate works.
A Celebration of Life will be scheduled later in 2022. Peter Klaus Dorn is survived by his beloved wife Charlotte Dorn (Graffunder). Married in 1954 on December 25. They would have celebrated 67 years of Marriage on Christmas day 2021. Peter is also Survived by his three Children, Gregory Dorn, Jennifer Galloway (Dorn) and Jeffrey Dorn as well as his 6 Grandchildren, Alisha Anderson (Galloway), Dianna Dorn, Peter Dorn jr., McKenzie Dorn, Caleb Dorn and Denali Dorn as well as in laws Trish Dorn (Moll), Annette Dorn (Oatway), Greg Anderson and Great Grandchild Shayne Day. Peter Klaus Dorn parents were Robert and Martha Dorn of GermanyThe influences of Peter Dorn's Designs are reflected in our Canadian History.
In 1972 A new logo for Queens University was revealed as the Q-Shield and would be the institutions calling card for decades. 1976 saw Dorn design the '76 Olympic posters and programs for the Olympic events held in Kingston, Ontario. Dorn's creative excellence led to being part of an exclusive artist group that met in Montreal headed by Quebec Premier Rene Leveque. His designs led to the creation of a Canadian Stamp celebrating the province of New Brunswick 200-year anniversary.Always a cookie in his pocket for his best friend dog, all dogs. Peter loved animals and they he because kind hearts will find each other. Always the life of the party Peter loved people and the sharing of ideas. Vigorous debates always at the core of conversation in a quest to know you better and expand his own thinking. He respected and welcomed everyone's opinion even if he didn't agree with you. Peter Dorn was born 1932 in Berlin, Germany, where he attended public and high schools, served his apprenticeship as a compositor and studied graphic design in night classes. His childhood was spent in the throes of World War 2 where he lived and experienced many atrocities.Coming to Canada in 1954, Dorn remarked"I experienced the typical newcomer cycle of working at odd jobs until my English improved and I was able to work as a journeyman compositor at several type houses in Toronto as well as for printers in Port Arthur, Calgary and Vancouver."In 1956, Dorn started to design books at University of Toronto Press. Eventually becoming the typographer of the Press. His design for The Violin (1969) won an award for typographic excellence from the New York Type Directors Club.Influenced by Carl Dair, Dorn established a Private Press in 1963, The Heinrich Heine Press. Many of the works of the Press received national and international awards over the years.Dorn Stated in Reader, Lover of Books, Lover of Heaven (North York Public Library, 1978. Designed by Glenn Goluska)."Heinrich Heine's writings, poetry, and ideology delighted and enlightened me. He became a personal, meaningful experience, in the same way I feel, that private printing is a personal experience, printing meaningful things. These feelings make up the "idealistic" birth of the Heinrich Heine press"- Peter Klaus DornFrom 1963-1970 Dorn served as the director of the Guild of Hand Printer. Dorn was also a member of Quadrats, a group of printing professionals that met at Massey College. In 1968, Dorn studied at Hochschule für Grafik und Buchkunst in Leipzig, Germany. Queen's University hired Dorn in 1971 to inaugurate its Graphic Design Unit and to develop Queen's corporate identity. In 1975 he was made a Fellow of the Graphic Designers of Canada. He served as National President of the GDC in 1978/79, Dorn retired from Queen's in 1995.After his retirement in 1995 Peter finally relaxed and lived life on his beloved land, tending to his paths, trails and constantly fighting off the beavers from taking down his newly planted trees. Always having just one more project to complete. Peter and Charlotte embarked on many travels during these years and enjoyed wonderful adventures together whether in Florida, Vermont or driving the Cabot trail.Peter Klaus Dorn was beloved, respected and treasured by his friends and family.
May he rest in peace, even though we know his Mischievous nature will lead him to great adventures in the afterlife.


Share Your Memory of
Peter