INFO@CATARAQUICEMETERY.CA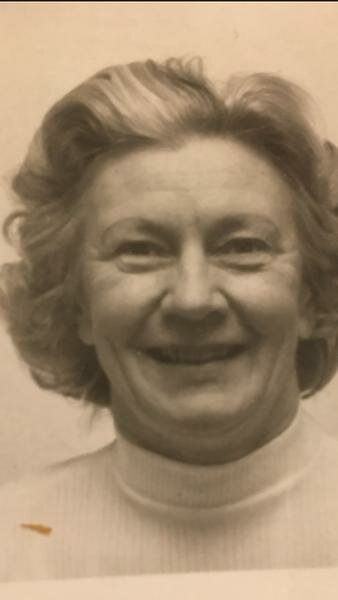 Share Your Memory of
Helen


Obituary of Helen Doreen Williamson
After a joyous 100-year birthday celebration in August, Mom passed away peacefully at Helen Henderson Care Centre on December 20, 2021. She attained her goal of reaching 100 and received her much cherished certificate from the Queen who she, her mother, and granddaughter Deb met along with Prince Philip when they visited the Kingston area. Survived by her 4 children: Judy (of Virginia); John (Shirley) of Inverary; Jane (Bennett Lake) and Jim (Sue) of Coldwater. Also survived by 11 grandchildren: Laura, Katie, Christina, David, Jenna, Deb, Steve, Josh, John, Amanda, and Jake and their partners. Also sadly missed by 32 great grandchildren. Also survived by sister Freda (Cochrane, Alberta) and a niece and 2 nephews. Predeceased by her husband Jack, parents George and May Compton, granddaughter Megan, and sons in law Eddie and Ralph.
Mom grew up on a farm in Inverary and talked of fun and jokes they had even growing up through the Depression. She kept her sense of humour throughout her life. She graduated from KCVI and Kingston Business College. During the War she worked at Military Headquarters in Kingston where she met a dashing army officer, Jack; and they married in 1942. After the war, Jack was discharged from Camp Borden and the family moved to Aurora in 1951 where they raised the 4 J's: Judy, John, Jane and Jim. Mom was very active in the community and Trinity Anglican Church and worked at York Regional Hospital and a local jewelry store. She loved hosting dinners and entertaining friends and her meals were legendary. In the process she taught all 4 children to be good cooks and encouraged them in their education and careers. During her Aurora days a highlight was a hot air balloon ride on her 75th birthday and trips across Canada and to Great Britain. She was always ready for a new adventure. In 2007, she sold her home in Aurora and moved back to the family farm in Inverary and lived with John and Shirley and reunited with some childhood friends. She always enjoyed writing a poem to mark special occasions and won a competition for Sir John A's birthday and read her poem at that occasion. The last couple of years she was in Helen Henderson Care Centre where the staff were so kind and she participated in activities and kept her sense of humour even donning a fake nose and glasses one day and pulled sheets up to her nose to surprise the staff. Mom will be greatly missed by family and friends.
Cremation has occurred and interment will be at Cataraqui Cemetery in the Spring when family can hopefully get together. If people wish, donations can be made in her memory to Christ Church Cataraqui, the Cancer Society, or charity of your choice.
Mom you taught us to work, to love, to laugh and to persevere through all we faced.