INFO@CATARAQUICEMETERY.CA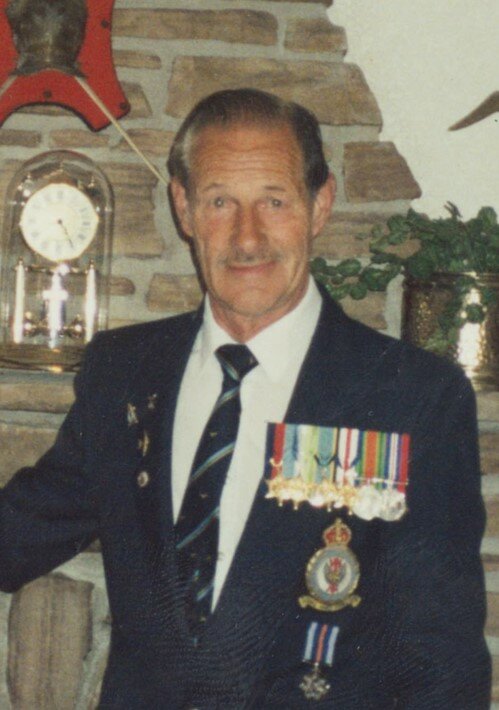 Share Your Memory of
Philip


Obituary of Philip Herbert Griffiths
Passed away on Thursday, January 12 at the age of 99.
Griff was predeceased by his wartime sweetheart Polly (nee MacLean), his beloved daughter Linda, his sister Joan of New Jersey (a US war bride), and his parents Alf and Monica Griffiths.
Griff is survived by his caring son Bruce, his daughter-in-law Judy, his grandchildren Colin (Alison), Jenna and Abigale (Colin), his great grandchild Charlie, his three nieces and one nephew of New Jersey, and his cousins Wilf and Jean of Rotherham, Yorkshire.
Griff was born on April 29, 1923, in Rotherham, Yorkshire to a Welsh father and Yorkshire mother. Though spending little time in Yorkshire after 1940, he retained a deep attachment to his Yorkshire heritage. He was also a proud Canadian and loved his adopted land having immigrated there in 1947.
Griff volunteered for air crew in the Royal Air Force at the age of 17. He subsequently flew 30 missions over Europe in 1942/43, when Bomber Command were experiencing losses of 70%. Following Bomber Command, he was posted to Ferry Command, based at Dorval Airport in Montreal, where he delivered aircrafts to the UK and Burma. While in Burma he was "conned" into doing several low-level flights through a Japanese barrage of Nambu machine guns and light AA fire to drop supplies to the British regiments trapped and surrounded on Kohima Ridge.
He was later posted to Miami, then Nassau with the unbelievable job of transporting young ladies from Washington back to their homes in the West Indies, in particular Trinidad, Belize and Jamaica. Griff thoroughly appreciated this part of his service and gave his all to this tough assignment! He used to say, "what a life for a lad from Rotherham".
Griff was a keen golfer and long-time member of Belle Park Fairways where he had many good friends, some of whom were there to celebrate his hole in one in 2007. He was well known in soccer circles in Montreal and Kingston as a player, referee, instructor, and referee assessor. He particularly loved to referee his "Golden Girls". Somehow, Griff found time after his retirement to go to aquafit, square dance, ballroom dance and was a member of the Canada/UK dance club. He was also an active member of the Kingston Seniors Association where at one time or another he took lessons in ballroom dancing, tai chi, fencing, Zumba, line dancing, table tennis, and often dined there with dear friends. Griff was a 3rd degree member of the Knights of Columbus; and was a member of the Silver Wings, a veteran's group in Kingston, where he felt so much at home. Griff continued many of his activities through his 91st birthday when a fall made it necessary to cut back considerably.
He loved living in his home on Glen Cairn Terrace, and he referred to it as his "street of friends". He had many good friends there who kindly included him in their parties and celebrations, even though he was a "couple" of years older. They were always solicitous and helpful in every way, and without these neighbours, and his son, he could not have managed to live alone in his home until the end.
Whenever possible, Griff attended his squadron reunions in the UK until their ranks became sorely thinned. He kept in touch with his old Bomber Command even until the last of them flew into that "great unknown".
He asked that we include this quote from his favourite poet, Dylan Thomas. "He did not go gentle into that good night, but raged, raged at the dying of the light." Griff was one of a breed of men, the like of which we may never see again.
In keeping with Griff's wishes, there will be no viewing or visitations. Cremation has taken place and his ashes will be buried alongside his beloved wife in the Cataraqui Cemetery. The family will hold a memorial service and celebration of life on April 29th, what would have been Griff's 100th birthday. Any charitable donations should be directed to the Canadian Cancer Society.